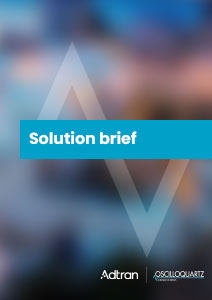 Ways to meet next-generation PRTC timing accuracy with multi-band GNSS receivers
Today, most synchronization networks rely on single-band GNSS receivers. But, as delay between satellites and receivers is affected by space weather, current single-band technology can only be accurate to a limited degree. In order to meet the stringent PRTC-B specifications needed for precise 5G network synchronization, time errors must be within 40ns of UTC. This demands a new approach to GNSS-based timing.
Clocks capable of extremely high levels of stability, such as those with rubidium oscillators, offer one possible solution. However, these add significant cost and are not resilient enough to changes in environmental temperature. Now, there's a much more efficient and accurate option. By using time information from several frequency bands, our multi-band GNSS receiver technology dramatically reduces time error and meets the standards of next-generation PRTC timing.
Read our solution brief to find out more about the advantages of our multi-band, multi-constellation GNSS receivers. Learn how they mitigate quality degradation, provide resilience to jamming and spoofing, and help to improve precision with Syncjack™ timing assurance. And discover how our uniquely scalable and affordable modular solution can be upgraded in the field by simply plugging an expansion card into deployed devices.