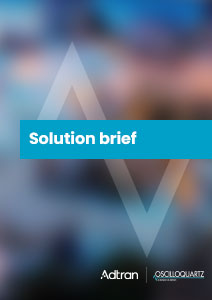 The power clock for smart grid timing
Smart grids need tight synchronization. Monitoring and processing data from sensors, remote terminals, protection relays and control systems requires precise timestamping and the highest levels of timing availability. But for utility network operators, it's also essential to maintain legacy synchronization while the evolution to more accurate and resilient timing technology takes place.
Our OSA 5405-P is specifically engineered to bring multi-technology synchronization to power utilities. Enhanced with IRIP-B interfaces and able to support multiple PTP profiles such as the Power Profile and Telecom Profile, this versatile synchronization device also provides an NTP server. The OSA 5405-P has an integrated antenna and can be directly mounted on a wall, a DIN rail or in a rack, significantly simplifying installation and reducing operational cost.
Discover more about how our OSA 5405-P substation grandmaster handles any sync challenge. Read how it delivers the highest levels of reliability with both satellite- and network-based timing as well as its Syncjack™ monitoring and assurance technology for real-time info on synchronization quality. And find out how our sophisticated Ensemble Controller and Sync Director manage the entire transport and synchronization network for ultimate visibility and control.