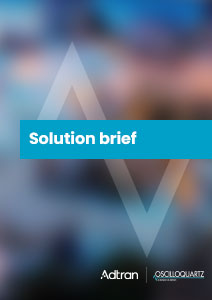 Robust and reliable synchronization for single-frequency networks
Broadcast networks play a vital role in our societies, delivering entertainment, live sporting events and the latest news to people's homes. They are also crucial for keeping the population informed in times of national emergency. That's why it's imperative that terrestrial broadcast infrastructure and single-frequency networks are highly robust with business continuity resilient to the vulnerabilities of satellite-delivered timing.
The accuracy and availability of GNSS-based synchronization are under threat from jamming and spoofing attacks as well as atmospheric disturbances and strong solar activity. Terrestrial broadcast infrastructure and single-frequency networks must therefore use the latest technologies to mitigate satellite vulnerabilities. They need to implement alternative or augmenting timing technologies such as aPNT as well as combining network and GNSS-delivered synchronization.
In this solution brief, we outline how broadcast transmitters can be made independent from GNSS and how packet networks can be used to provide precise and resilient synchronization with Precision Time Protocol (PTP) as a backup or as the main timing source. Find out more about our Oscilloquartz portfolio of multi-technology PTP grandmasters and ultra-stable core clocks, and discover the many routes to robust and reliable broadcast synchronization.