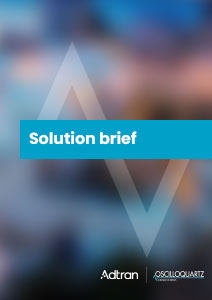 Precise time synchronization for ZTA
In today's interconnected and rapidly evolving digital landscape, network time synchronization has emerged as a fundamental pillar for IT operations and security across various industries. At the core of establishing a robust zero-trust architecture (ZTA) network, precise time synchronization plays a crucial role in ensuring data integrity, secure communication and reliable operations. However, a significant challenge arises with networked devices – the issue of time drift. This occurs gradually over time, causing inaccurate timekeeping and opening the door to potential security vulnerabilities. This inconsistency can hinder the immense potential that ZTA networks can offer.
That's where our aPNT+™ comes in – a cutting-edge time synchronization solution that addresses the critical challenges faced by modern networks in maintaining accurate time across distributed infrastructures. Oscilloquartz aPNT+™ technology provides trusted and precise time synchronization, not only bolstering the security of ZTA networks but also offering operational advantages in diverse sectors, including finance, manufacturing, telecom, energy, academia and defense systems. With aPNT+™, your network has the ultimate foundation for effective ZTA implementation, protecting it against potential errors, failures and attacks.
Explore the power of Adtran's Oscilloquartz aPNT+™ platform in our solution brief and discover how our technology elevates your ZTA network to new heights of security and performance. Read how to take control of your network's synchronization with our Syncjack™ technology, offering an extensive suite of remote configuration and troubleshooting tools for seamless management. And find out how to implement the four layers of GNSS signal protection to safeguard against potential jamming and spoofing threats, ensuring uninterrupted and precise time delivery.