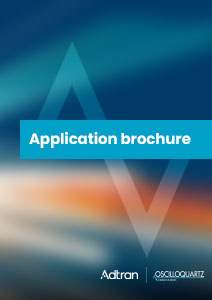 Overcoming synchronization challenges in today's energy networks
The power grid is evolving. With multiple sources of energy generation creating a dynamic environment and smart grids needing to support everything from large power plants to wind farms to private solar power sites, new strategies are urgently required. Network timing is key to this transformation, and utilities must deploy technology able to deliver precise, robust synchronization from the substation to the core of the smart grid network.
Secure and reliable power grid operations requires equipment that can provide real-time assessment of grid health as well as timestamped measurements for rapid fault localization. To deliver the high-accuracy frequency, phase and time services that new smart grid technologies require, packet networks need to be PTP-aware. This requires closer alignment than ever before between operation technology and information technology teams.
Read our joint application brochure with Burns & McDonnell for more about enhancing utility networks by replacing legacy synchronization infrastructure with time-aware networks transporting PTP packets. Discover how local grandmaster clock devices can be used as backup to a centralized timing source. And find out how seamless cooperation of the various sectors of the smart grid can be achieved for a new era of power utilities able to support electric vehicles, the IoT and a greener future.