Deutsche Bahn brings 5G timing to German railways to meet new FRMCS standards with Adtran Oscilloquartz timing solution
News summary:
National operator needed precise synchronization for its SDH network and the transition to a Future Railway Mobile Communication System
Adtran's Oscilloquartz timing technology reduces GNSS dependence, enables predictive maintenance and boosts operational performance
High-performance optical cesium atomic clock combines with core PTP grandmaster device to create accurate and resilient ePRTC+ solution
Adtran today announced that Deutsche Bahn is leveraging its optical cesium atomic clock technology to bring precise timing to its nationwide railway network. The enhanced primary reference time clock (ePRTC+) solution will empower Deutsche Bahn to implement predictive maintenance and other technological advances throughout its network. Deployed as part of a major upgrade to Germany's railway infrastructure, Adtran's ePRTC+ technology supports migration to the Future Railway Mobile Communication System (FRMCS) framework, an initiative that harnesses innovation to improve railway safety, reliability and efficiency. Adtran's partner Telent also played a significant role as a system integrator, carrying out installation, configuration and troubleshooting.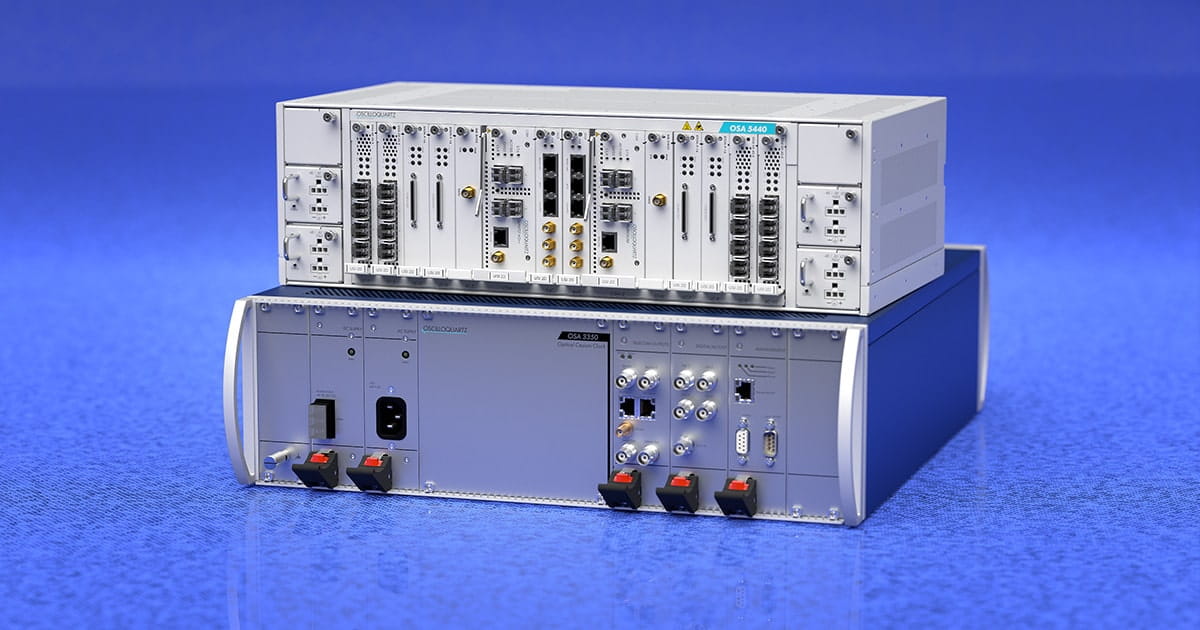 "We're helping transform the safety and efficiency of one of Europe's largest transport infrastructures for both passenger and freight services. Our ePRTC+ technology is ideal for facilitating Deutsche Bahn's smooth transition to FRMCS, and we're excited to be playing our part in its transformative journey," said Stuart Broome, GM of EMEA sales at Adtran. "Ultra-stable and highly accurate timing opens the door to a wide range of new applications, including sophisticated signaling, optimized train scheduling, efficient track switching and comprehensive asset management. Our unique innovation is helping to usher in a new era of connectivity, reliability and sustainability in the railway industry."
We're helping transform the safety and efficiency of one of Europe's largest transport infrastructures.
Adtran's Oscilloquartz ePTRC+ technology is now providing next-generation timing delivery and assurance for Deutsche Bahn's critical network infrastructure. The solution consists of the OSA 5440 core grandmaster, OSA 3350 ePRC+ and the OSA 3350 super enhanced primary reference clock (SePRC), delivering the highest availability, precision and exceptional holdover capabilities. The OSA 3350 SePRC is an industry-first cesium atomic clock that surpasses current ITU-T standards G.811.1 through its superior optical pumping technology. To ensure ultra-accurate and stable timing, the solution employs multi-band GNSS receivers to compensate for ionospheric disturbances. By enhancing GNSS reception and reducing reliance on satellite signals, it guarantees service availability and optimal network performance, even in the face of major cyberattacks. In the event of GNSS signal loss, the solution can maintain phase outputs within 100 nanoseconds from UTC for up to 55 days.
"It's increasingly important for critical assets like national rail infrastructure to have precise and assured timing that's invulnerable to GNSS interruption or failure. By working closely with Adtran to deliver the benefits of its robust atomic cesium clock solution, we're helping Deutsche Bahn ensure compliance with the most stringent regulations and guaranteeing the security of its operations," commented Klaus Scholz, head of fixed wireless solutions at Telent. "Adtran's technology and our ongoing support are also enabling Deutsche Bahn to adopt FRMCS, bringing higher data rates, improved reliability, increased capacity and better support for multimedia applications."