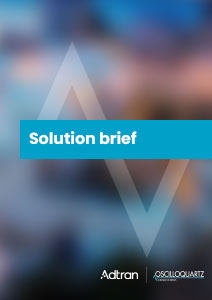 OSA ePRTC and ePRTC+
Deriving accuracy from GNSS sources is essential to meet the stringent synchronization requirements of mission-critical networks and be ready for 5G applications. But long GNSS disruptions cause severe network outages and so fundamental infrastructure, such as radio access networks, government and military networks, or metrology networks, must move away from reliance on GNSS alone.
Our enhanced primary reference time clock (ePRTC) solutions solve GNSS dependency while providing higher performance levels than standard PRTC systems. OSA ePRTC solutions are able to hold time accurately for at least 14 days, ensuring guaranteed time service performance during GNSS outages. What's more, our ePRTC systems deliver time to within just 30ns – a much higher level of accuracy than standard PRTCs.
Get the detail on both our compact ePRTC solution and our fully protected ePRTC solution. Read about the remarkable synergy achieved from the combination of our advanced atomic cesium clock technology and our uniquely versatile and highly accurate grandmasters. Explore the OSA ePRTC's extended holdover capabilities and its multiple operation modes. Discover how our fully protected ePRTC solution offers full hardware redundancy while its modular design provides unbeatable agility and scale.