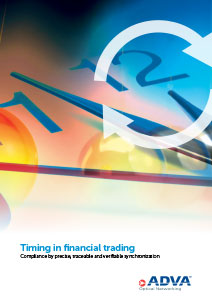 Timing in financial trading
Operating fair, secure and efficient financial markets relies on highly accurate timing of every transaction. In the EU, the European Security Market Authority (ESMA) has defined transparency requirements including precision of timestamping for reported events. The Markets in Financial Instrument Directive (MIFID II) requires time accuracy of 100μs synchronized to UTC for algorithmic and high-frequency trading. A similar ruling was defined by the US Security and Exchange Commission (SEC) with Rule 613.
These stringent synchronization requirements can't be met by the commonly used Network Time Protocol (NTP). New methods are needed to either improve the timing accuracy of NTP in legacy IP networks or distribute timing in a new way. Precision Time Protocol (PTP) is a more powerful and precise method of disseminating time information over packet networks. It combines hardware-based processing with additional timestamping in the data network. Time is not just transported over a network, network nodes also compensate for delays or even recover time by means of local oscillators acting as boundary clocks.
Find out more about highly precise PTP timing for financial networks and about the value of improving resilience with rubidium or cesium oscillators for extended holdover. Learn how you can seamlessly migrate towards future-proof time-keeping and avoid costly errors with in-service probing, monitoring and assurance. With our comprehensive product portfolio for the delivery and assurance of precise synchronization, you can avoid GNSS vulnerability and provide the accurate, traceable and verifiable timing needed to meet all regulations and deliver time-as-a-service offerings.